This blog post was first published to the giffgaff blog on Monday 25th September 2017
Hi Everyone,
Some of you may know that I'm not a big fan of cash for many reasons, storing the cash somewhere, having to count it out, etc. It's easier to just present your card or phone to the reader and go. So I gave myself a little challenge, to last from 25th August to the 25th September which just Apple Pay, no cash, no card, just my phone, how did I get one? Was I able to do it? Let's find out…
How to enable Apple Pay
First of all, for those of you know don't know, let's talk about what Apple Pay is and how to enable it. Apple Pay uses the NFC radio in the top of your iPhone 6 or later to make contactless payments just like you would with a contactless card. However, Apple Pay is more secure because it requires your fingerprint (Face ID or passcode if it fails) to authorise the payment. Apple stores a device-specific account number in the secure element inside the Apple-designed CPU. Every time you make a payment, it uses a one-time payment number (instead of your card number) and dynamic security code, making it way more secure than your plastic card the doesn't change for up to five years. For more on the technology behind Apple Pay check out this Apple keynote for September 2014.
How to use Apple Pay
Using Apple Pay is simple, hold your locked phone up to the contactless reader, place your finger on Touch ID (your face on iPhone X) and when it says 'Done' and dings you have paid. You can also pay using your Apple Watch simply double press the side button and hold near the contactless reader.
You can also pay for things using Apple Pay from the iTunes Store, App Store, Apple Store App and third-party Apps and website where Apple Pay is accepted by either confirming the transaction on your phone or if you have a MacBook Pro with Touch Bar it has Touch ID and Apple Pay built it.
Apple Pay in App and on websites has no limit on the transaction amount, However in stores, the contactless limit is £30, the store can override that for Apple Pay and Android Pay. Please check with the store to see if they accept Apple Pay over £30. Store like Apple, Sainsbury's, Waitrose and restaurants including Pizza Express and Nando's accept Apple Pay transactions over £30.
Grocery Shopping
This is something we seem to do constantly, whether it's the weekly shop or just popping out for some milk, it's important that we can get the task done as quickly as possible. I shopped at a few different stores over the month including Sainsbury's, ALDI, Asda and Tesco. All of these accept contactless payment and Apple Pay. In fact the store I shop at the most, Sainsbury's have recently removed the £30 limit on Apple Pay (and Android Pay) transactions, meaning you can now do a full shop with just your phone.
Eating Out
For my family, Saturday night is curry night and I like to get my takeaway from my local Indian takeaway, they have a chip and pin machine which supports contactless payments and therefore Apple Pay. With a child in the house, we also stopped by McDonald's for a Happy Meal, there to accept contactless payments and Apple Pay even in the drive-thru.
Nandos is one of the places I mentioned earlier where the £30 limit does not apply, when I visited toward the end of the month getting my burger and Peri Peri fries was easy and fast with Apple Pay.
Costa is my coffee shop of choice, they not only accept Apple Pay but you can put your Costa Card on your phone too so I was able to collect my points without my plastic Costa Card.
I also visited Wetherspoons during the month and used the Wetherspoons App to order my food and drink, I used Apple Pay inside the App to pay and had my food and drink brought to my tablet. To find out more about the Wetherspoons 'Order and Pay' App, check out my blog post on it here.
Products
The start of this month was big for Apple, the unveiling of the iPhone 8, 8 Plus, X and the Apple Watch Series 3 and 4K Apple TV, So naturally, I wanted to get myself a new shiny Apple product, so I got myself an Apple Watch for the first time. I was able to order and pay for it inside the Apple Store App using Apple Pay. It arrived on Friday and I love it, check out my unboxing here.
To go with my watch I wanted a Black Nylon band that Apple doesn't sell anymore, they have moved to a checked band that I don't like as much, luckily I was able to find one of the older band on clearance at Argos, so I ordered it. Unfortunately, they don't take Apple Pay in their App or on their website. This was my first failure in my Apple Pay challenge. I reached out to Argos and they passed my request for Apple Pay onto their App team to see if it can be added in a future update to the Argos App. I could have had it sent to my local store for pickup and used Apple Pay there to pay for it, but this wasn't an option at the time I ordered it.
Fuel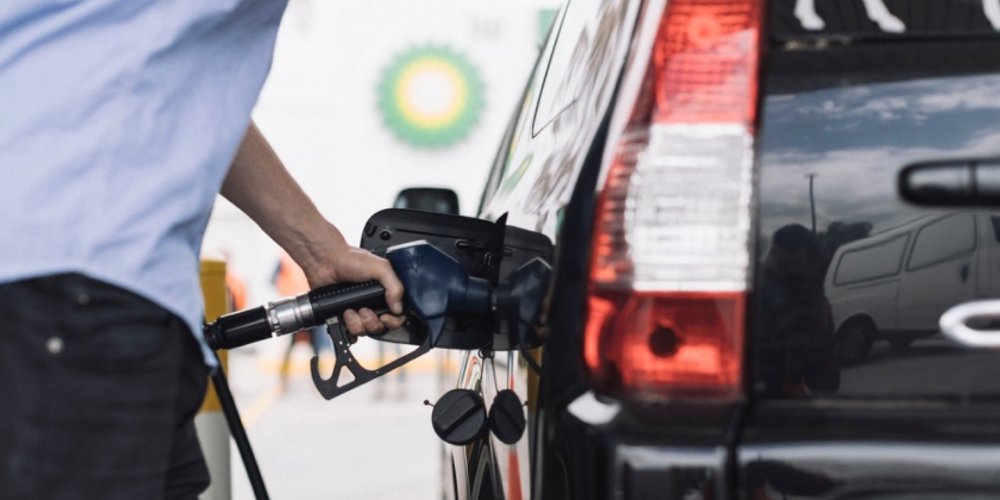 In the middle of the month, it was that time again to fill up my Smart Car, I go between Sainsbury's and BP because they both give Nectar point with the fuel, BP takes Apple Pay to pay for your fuel. Sainsbury's, however, have a pay at pump system, where it pre-authorise your card before you fill up, this is a brand new forecourt so I would guess it's a technical limitation of contactless, Apple Pay and Android Pay, that they can use them to pre-authorise payments. I choose to go to Sainsbury's because on the day it was around 5p a litter cheaper than BP was, unfortunately, this meant my second failure in the Apple Pay challenge.
So, How did I do?
Apart from getting my fuel from Sainsbury's and my Apple Watch band from Argos, everything else I bought in the month was able to be paid for using Apple Pay. If you're willing to change where you shop for a few items you can actually make 100% of your transactions using services like Apple Pay and Android Pay. I wouldn't be surprised if the very few businesses that currently don't take contactless payments will come on board soon, one day we will have a cashless economy and for me, that day can't come soon enough.
What about the future?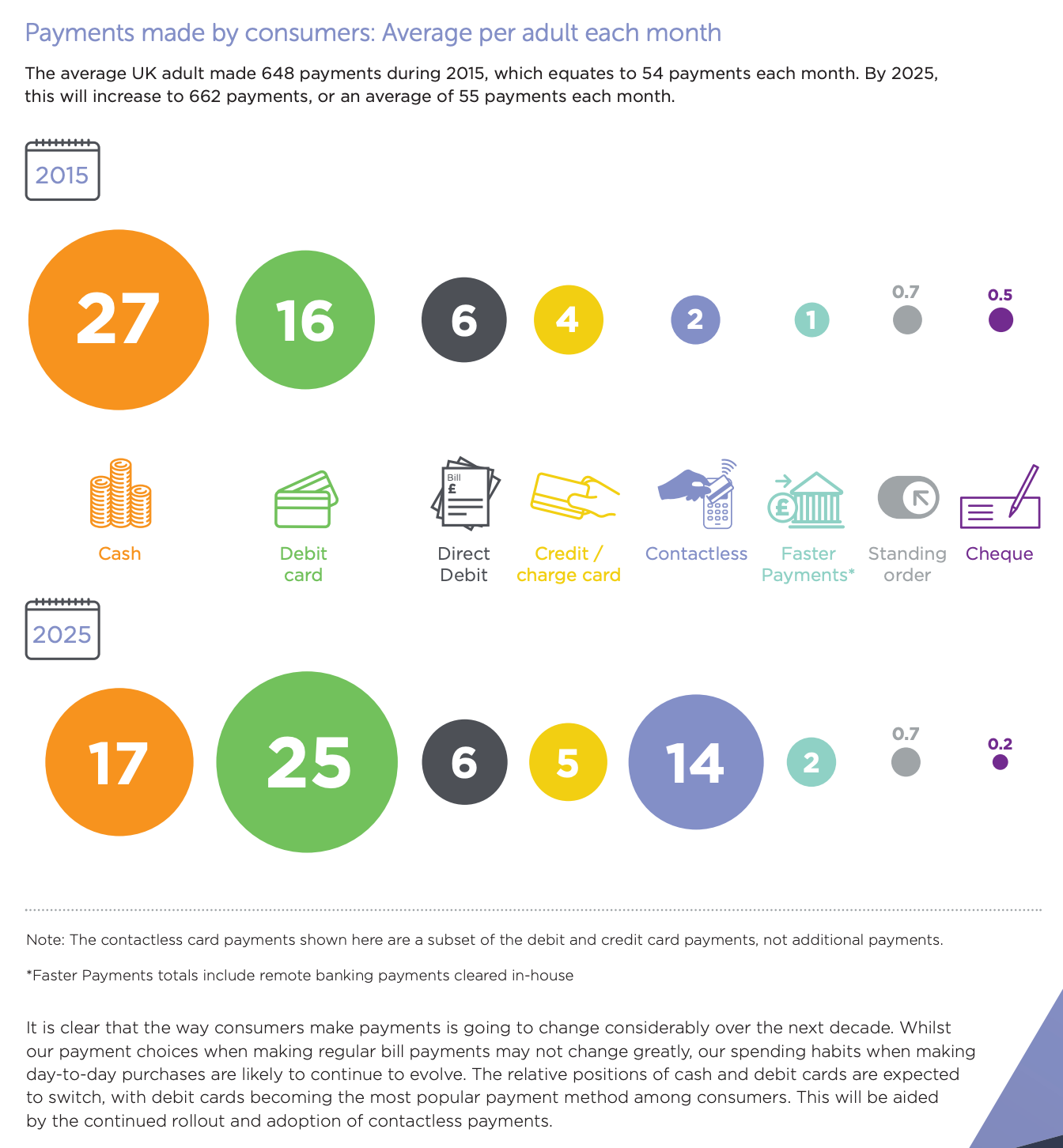 According to PaymentsUK, The use of cards will have overtaken cash by 2025 and contactless payments will almost be on par, check out there graphic below.
I hope you enjoyed this blog post, Why not try the contactless challenge yourself, leave the cash at home and use either your contactless card or a service like Apple Pay or Android Pay to pay for things exclusively for a month? Let me know in the comments how you get on.
Thanks for reading,
Carl
Sources: